We are now in all Earth Fare stores. They are featuring all varieties of our World's Best Carrot Cakes.
We are also now in the south region of WHOLE FOODS MARKETS: North Carolina, South Carolina, Georgia, Alabama, and Tennessee.
Our Cakery is in a new, larger location. (See The Cakery)
With our larger location and more wholesale and retail locations we are adding new staff.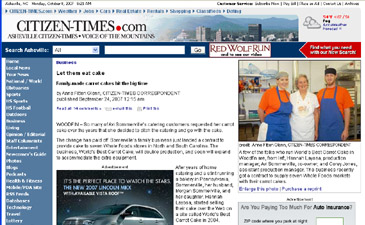 Let them eat cake
Family-made carrot cakes hit the big time
by Anne Fitten Glenn, CITIZEN-TIMES CORRESPONDENT
published September 24, 2007 12:15 am
WOODFIN – So many of Avi Sommerville's catering customers requested her carrot cake over the years that she decided to ditch the catering and go with the cake.
The change has paid off. Somerville's family business just landed a contract to provide cake to seven Whole Foods stores in North and South Carolina. The business, World's Best Carrot Cake, will double production, and soon will expand to accommodate the extra equipment.
After years of home catering and a stint running a bakery in Pennsylvania, Sommerville, her husband, Morgan Sommerville, and her daughter, Hannah Layosa, started selling their cake over the Web on a site called World's Best Carrot Cake in 2004.
That same year, an Earth Fare store manager tasted the cake at Organicfest, and Earth Fare started stocking the cake in its retail supermarkets.
"She has a great-tasting product and just needed some guidance to get it out on the market," said Mitch Orland, executive chef and food services director for Earth Fare.
The family opened a storefront on Weaverville Highway last year. They're now planning to move from their 600-square-foot space into one three times as large in the same building. Layosa and assistant Corey Jones will then increase their production from 600 to more than 1,200 carrot cakes a month. If the cakes sell well, Whole Foods markets in other regions of the country will start selling them. Avi Sommerville even has her heart set on the overseas market, noting that there's a Whole Foods store in London.
"I want to be worldwide," she said, adding that she recently had a request for her cakes from a specialty-store owner in Belgium. So far, World's Best carrot cakes have arrived safely in Alaska, Hawaii and Puerto Rico.
Longtime proponents of natural foods (they were sprout farmers in the 1970s), the Sommervilles offer five varieties of their carrot cake: all-natural, organic, gluten-free, chocolate gluten-free and vegan.
"The gluten-free and organic cakes are unique and what our customers are looking for. It's hard to make a good gluten-free cake," Orland said.
The original, all-natural carrot cake is made using an original recipe from Morgan Sommerville's mother. Avi Sommerville tweaked that recipe when she started selling at Earth Fare, and people started asking for gluten-free cakes. She experimented with gluten-free flour and came up with a cake that satisfied her exacting standards: "You can't tell the difference," she said.
When customers started asking for a vegan cake, Sommerville added orange oil and orange zest. She said that now some customers who aren't vegan prefer the vegan cake.
Each cake contains one pound of organic carrots, and the cakes are produced in small batches.
"That's the only way we can get them to taste like Grandma's," Sommerville said.
World's Best Carrot Cake is a family affair. Layosa, who has been baking part-time for the business, soon will be the full-time production manager. Her husband, Jason Layosa, will work full-time there as well, to help with everything except the baking. Avi Sommerville's mother, Jeannette Riedy, runs retail sales from the store, and their other daughter, Megan Sommerville, works as marketing director, even though she lives in New York City. Morgan Sommerville serves as the chief operating officer, although he plans to continue his work as regional director for the Appalachian Trail Conservancy.
Sommerville said that people are often surprised that she can support her family and other employees just by selling carrot cakes, but she said she got good advice from working with the folks who run the small business incubator at Asheville-Buncombe Technical College.
"They said you need to stay narrow and just do carrot cakes," Sommerville said. "Now look at us."