"The organic is the BEST! Vegan tastes JUST LIKE IT! SOO SO SO SO GOOD! I didn't realize I love carrot cake as much as I do now."
Nickey B.
Asbury Park, NJ
"You guys truly make the World's Best Carrot Cake! I had the vegan one and you would have never known it was vegan at all. I wanted to thank you for making such a delicious treat available to those of us not near you."
David P.
"Its unanimous, the carrot cake that I sent to my family was, according to them, "The Best Carrot Cake" they'd ever had! They thought the consistency was excellent."
Kathleen T.
"It is fresh, delicious and I can't wait to have another slice!"
Jenny C.
Florida
ORANGE CITRUS VEGAN CARROT CAKE
Did we mention our Orange Citrus Carrot Cake is dairy-free? Completely vegan carrot cake! We wanted everyone to be able to enjoy our World's Best carrot cake so we invented one with no eggs, butter or cream cheese – and it tastes incredible! Truly the best carrot cake recipe ever made for vegan carrot cake lovers!
Three, 8" delicate layers of cake are layered with super creamy walnut icing flavored with just a touch of natural orange oil and fresh, hand-grated orange zest. This vegan carrot cake is so good people don't believe us when we tell them it is dairy-free!
Serves 12 – 16, ~ 4.5lbs.
$38.00 + Shipping & Handling
BUY NOW! Have your carrot cake delivered!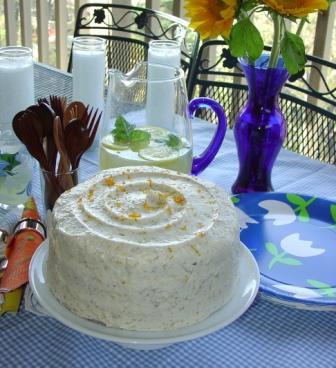 Our cakes are made in a kitchen which processes ingredients that contain protein derived from milk, eggs, tree nuts, peanuts, wheat or soybeans.